AAA Program
ONE PRICE. NO HASSLE CAR BUYING.
* Prices exclusive to AAA members only
* FREE GIFT w/purchase from AAA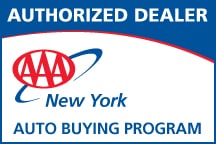 PROGRAM BENEFITS
The Auto Buying Program is a no-cost service offered exclusively to AAA New York members. The Program is not a broker service - we do not purchase vehicles on members' behalf. Instead, we refer you to a participating dealer near you that has agreed to participate in our low, "one-price" Auto Buying Program for new vehicles, and special members-only incentives on pre-owned vehicles.
Members-only prices and special purchase incentives
Participating dealers must adhere to strict program requirements to participate in this program. Our dealers have been selected for their outstanding customer service reputation (CSI), their wide selection of vehicles, and their agreement to provide low, members-only pricing in a friendly, no-hassle, no-haggle way on new vehicles, and special purchase incentives on a wide selection of pre-owned vehicles.
New vehicle no-haggle, no-hassle buying experience
Participating dealers use the "one low price" method to sell new vehicles to members. That means no haggling, no bargaining, and no sales gimmicks or pressure tactics. Our participating dealers offer you the lowest possible price--up front and in writing, without negotiating. You can be sure you're getting the lowest price by requesting to see the dealer's AAA New York confidential member pricing agreement along with the factory bill at the time of your vehicle purchase. This way you can be sure that you are getting the best possible price, without gimmicks or extra charges.
Pre-Owned vehicle purchase incentives
Participating dealers have agreed to members-only purchase incentives on the purchase of a pre-owned vehicle from their vast inventory and wide selection of pre-owned and certified pre-owned vehicles. Call us for the latest update on these members-only incentives.
Instant online research and auto buying resources
We want to help you find the vehicle that best suits your needs. Use our online research tools to help you decide which vehicle to purchase and which options to choose for your vehicle--including pricing information. Or call our member service center at 888-247-4029 for personalized help in selecting a vehicle.
Pre-owned vehicle search
AAA New York members can access thousands of pre-owned vehicles in real-time from our dealers inventories. Each vehicle listed will display pictures of the actual vehicle along with options and equipment for each. Members can also access vehicle pricing, MPG data and NHTSA crash test data all in one place. Vehicle inventory is updated every day to bring you the most current and comprehensive list of vehicles from dealers in your area. Please observe our advanced search options, which allow you to find the exact vehicle to fit your needs and budget. "The Right Car at the Right Price."
Fast, friendly AAA New York member service
Our dealer program representatives are trained to focus on your needs, and help you purchase or lease the right car for you--when you're ready. You'll never feel pressured to make a decision, and there is never any obligation to purchase from a particular dealer. Member testimonials show time and again that AAA New York members get the best deals and the best service through our Auto Buying Program.